Thunderwolves Baseball
College Training | Camps | Baseball Programs | Tournaments
Baseball Programs in Western New York
Thunderwolves Baseball – Programs for All Ages
Our program attracts athletes with a passion and talent for baseball who want to challenge themselves in a structured and engaged development environment to explore where their talent can take them. Players only improve by playing better competition. By attending some of the best tournaments in the United States, we challenge our players, and teams, by heavily exposing them them to collegiate and professional scouts.
"
"...The exposure we received was crazy. If you are serious about playing college baseball, this is the program for you."
- Mitchell Pascarella Southwestern, NY UConn
Thunderwolves Baseball Tournaments
Home of Pitch & Hit Events
We host 3 main tournaments each year, the Battle at the Falls , Upstate Showdown, and the Can/Am Invitational. Registrations are currently open. Learn more by clicking on one of the tournaments below.
Alumni MLB Draft Picks
Over the past seven years, Thunderwolves Baseball has seen 83 players move on to play baseball at the college level, with 41 of those being to NCAA Division I or Division II scholarship schools. Additionally, Thunderwolves Baseball has seen two alumni drafted into the MLB First Year Player Draft in Charlie Mack (Minnesota) and Matt Cross (Oakland)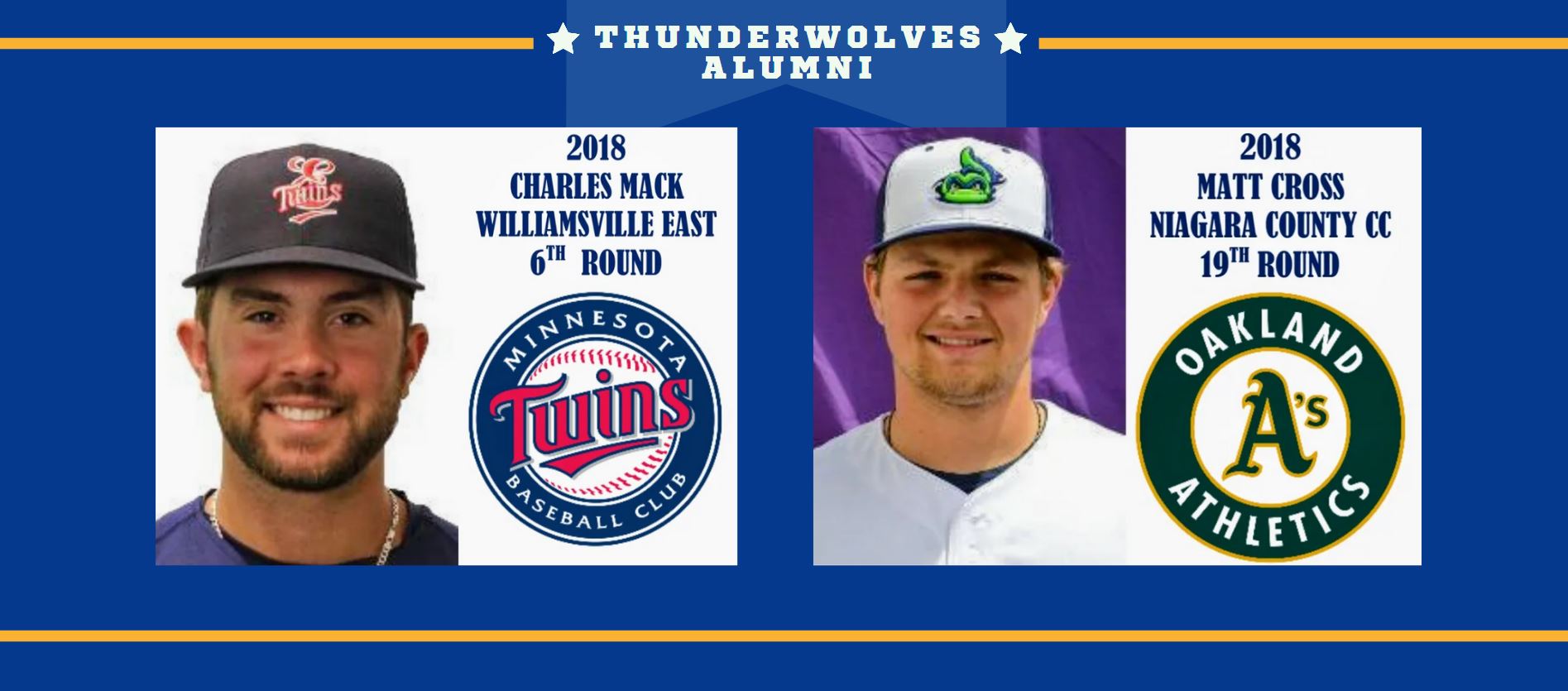 View College Commitments
Thunderwolves Baseball Offers
Baseball programs for all ages in WNY and surrounding areas.
Thunderwolves Apparel
We are now offering a line of high quality t shirts ,hoodies, shorts, and more. Click below to browse the shop.
Find Us
You can find us on Twitter, Facebook, and Youtube. Be sure to check out the twitter feeds for our 3 annual baseball tournaments!
Message from the President of Baseball Operations
"It is our goal as a program, to develop our student-athletes talents on the field while developing their character and values off the field.  We take a lot of pride in helping each individual find the right college fit, regardless of level. We want each of our student-athletes set up for success, not just in the immediate future, but long term future, and gaining an education is a big part of that vision.  Where baseball fits into that is different for each individual.  Our program has a very low college transfer rate, which I think speaks volumes to our dedication to that process. Our athletes have been very successful on the field at the college level, which I believe speaks to our preparation and development.  Not only is it important to us that we aid in helping each individual find the right college fit, but it's equally important that they be prepared for the challenges that those opportunities present."
Jeff Ziemecki | President of Baseball Operations